The Timken Company's advanced multiplying encoder ASIC, offers design engineers an alternative to delicate optical sensors and expensive resolvers. The system on a chip Timken design features imbedded Hall sensors and processing that provide optical encoder resolutions in a small durable, low-cost, off-axis magnetic encoder ASIC package. The technology is applicable as a stand alone ASIC and Target set, Modular Package or an Industrial Package Encoder with internal bearings.


CambridgeIC develops integrated circuits for sensing the precise position of moving parts in machines. We specialise in , and our team has been leading the development of this technology for over 16 years.Our customers are designers of electromechanical products seeking an innovative edge. Resonant inductive technology helps simplify product manufacture. Position sensors are built from conventional PCBs, so that they are accurate, robust and cheap to manufacture. However until CambridgeIC's foundation in 2007, the technology required special design skills. Our mission is to make design-in straightforward, by providing customers with a single-chip solution and a set of standard designs and integration tools.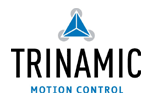 TRINAMIC is a fabless semiconductor company developing ASSPs for motion control of fractional horse power stepper motors and brushless DC motors. TRINAMIC's integrated circuits are manufactured to the highest standards in the world's most advanced manufacturing plants.